Drawing 100,000 Fans to Downtown L.A., the Biggest Festival Brand in Rap Closed Out the 2010s With Its Sights on Another Decade of Domination
The 2010s was a decade for rapid change, as the rap industry struggled to keep up with the voracious appetites of fans, who constantly scoured SoundCloud in search of the next star. As traditional gatekeepers fell by the wayside, Rolling Loud became a major rite of passage, giving these internet-born stars an IRL crowd to match their impressive streaming numbers. Rolling Loud hosted the first major festival performances from the likes of Lil Uzi Vert, Lil Baby, Playboi Carti, Trippie Redd, Lil Peep, and more, and became a comfortable home for relative veterans like Travis Scott, Migos and Young Thug, and influential forefathers like Lil Wayne and Gucci Mane.

The final Rolling Loud festival of the decade was a bittersweet one, as Rolling Loud and the hip-hop community at large came together in Los Angeles to mourn Juice WRLD, who passed away earlier in the week. Before he turned 21, Juice World changed the face and sound of hip-hop, spinning bleakly witty tales of romance and inner turmoil and crafting emo-influenced melodies into unforgettable hooks. On Sunday night, Juice WRLD's touring band held down the stage for an unmissable hour, as luminaries like G Herbo, YBN Cordae, Benny Blanco, Cole Bennett, and others came through to pay their respects.

The Juice WRLD tribute was a beautiful and necessary moment, but it didn't distract from the rest of the sold-out festival, which brought its usual array of superstars, veterans, and on-fire newcomers. Future closed out the night with an impassioned run through his unbeatable discography. YG put on for his city (and mourned his close friend Nipsey Hussle) in an eventful performance. The crowd showed out for 2019 breakout stars DaBaby, Megan Thee Stallion, and Polo G, and vibed to L.A. locals like Tyga, Doja Cat (who brought out Smino during her set), and Buddy.
Possibly the most influential rapper of the decade, Future was a fitting closing act for the final Rolling Loud of the 2010s (Credit: Rolling Loud/@eazypho)
An emotional celebration of the late artist's legacy–figures like Benny Blanco, G Herbo (pictured), and Juice's friends and family made appearance (Credit: Rolling Loud/@itchyeyephotos)
Juice WRLD's girlfriend Ally gives emotional remarks (Credit: Rolling Loud/@itchyeyephotos)
Pretty Flacko stopped the show at the High Hemp stage, performing hits new and old (Credit: Rolling Loud/@itchyeyephotos)
2019's biggest breakout star unleashes pandemonium on the High Hemp Stage (Credit: Rolling Loud/@srodriguez92)
Bringing a cadre of dancers and a multitude of hits for the hometown audience, Tyga capped a roller coaster decade in style (Credit: Rolling Loud/@ITCHYEYEPHOTOS)
Don't come to L.A….unless you're coming to watch this Compton native perform (Credit: Rolling Loud/@jessicapadover)
Make your Holiday Season a Hot Girl season (Credit: Rolling Loud/@itchyeyephotos)
POLO G (Credit: Rolling Loud/@shaunllewllyn_1)
SHORDIE SHORDIE (Credit: Rolling Loud/@jordankelseyknight)
DOJA CAT (Credit: Rolling Loud/@itchyeyephotos)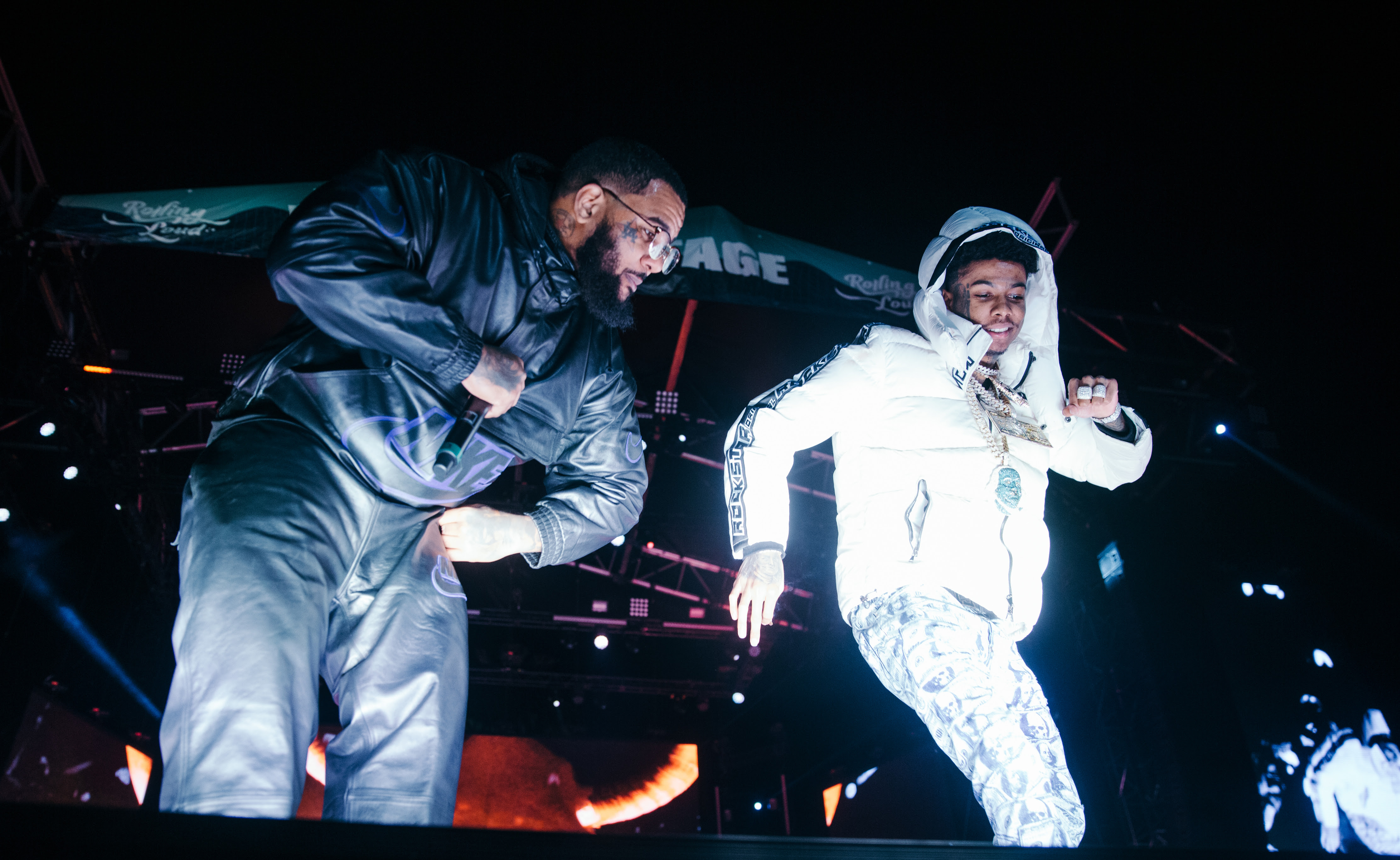 THE GAME & BLUEFACE (Credit: Rolling Loud/@shaunllewellyn)
BUDDY (Credit: Rolling Loud/@arrogantwatcher)
KALAN.FRFR (Credit: Rolling Loud/@jamesbaxter)
(Credit: Rolling Loud/@henryhwu)
(Credit: Rolling Loud/@jordankelseyknight)
(Credit: Rolling Loud/@itchyeyephotos)
(Credit: Rolling Loud/@henryhwu)
(Credit: Rolling Loud/@itchyeyephotos)